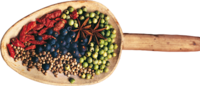 AUSTRIA – ALL GOOD THINGS START WITH AN IDEA
Johannes Gutmann's idea of letting a farmer be a farmer again and to enable small-scale farms to make a good living has been reality now for a quarter of a century. His idea has now got fans far beyond the Waldviertel.
Number of organic farmers: approx. 150
Farming area: 500 ha
Climate zone: humid-warm climate, in the East, Pannonian-continental climate.
Growing herbs and spices in Austria
25 years ago, three herb farmers supplied SONNENTOR with organic herbs and spices grown in the Waldviertel region. Today, there are around 150 organic farmers who cultivate natural treasures for SONNENTOR. It is important for us to get as many Austrian-grown herbs, spices and other raw material as possible.
Where do our ingredients come from?
Most our Austrian farmers are based in Lower Austria, Upper Austria and Burgenland. Lower Austria and Upper Austria mainly produces leafy herbs such as melissa, peppermint, caraway and poppy. In the Waldviertel area, plants start off in greenhouses as direct sowing is not possible due to the harsh climate. This is not necessary in warmer regions, e.g. in the Burgenland, where plantlets are sown directly in the fields. Anise, coriander, carrots, beetroots and several other varieties benefit from its Mediterranean climate. We enjoy doing pioneering work: In the past, it was almost impossible to get organic garlic or chili from Austria. We encouraged farmers to grow those plants and we can now obtain these from the domestic market.
Contract Farming for SONNENTOR
SONNENTOR farmers receive a cultivation and supply contract in which the cultivation area and the expected yield for the respective raw material are fixed. We give the farmers a purchase guarantee - the entire produced quantity is bought from the farmer, even if it exceeds the expected delivery contract. If the expected yield is not reached, farmers do not have to buy additional goods to be able to deliver the agreed quantity.
Even if the opiate content remains in the risk-free range, the use of poppy can lead to positive results in case of drug tests.
Prices for herbs and spices are fixed at the annual cultivation meeting in February together with the farmers and are not dependent on the availability of the raw material. We guarantee absolute price stability. Each farmer gets the same price for the same raw material, so no competition is created and cooperation is promoted.
Before sowing starts, planning is carried out together with our purchasing department. In doing so, absolute consideration is given to which plants are most suitable for the individual farms. Once the plants grow and thrive in the summer, an employee is at hand to advise and support farmers to guarantee outstanding quality of their products. Herbs are dried directly on the farms to best preserve essential oils and avoid the growth of bacteria in the moist raw materials. Cleaning and sorting processes etc. take place at SONNENTOR in Sprögnitz.
Existing SONNENTOR farmers are given comprehensive advice during the cultivation period and new contract farmers receive support and know-how from SONNENTOR and other farmers. Fair co-operation, handshake agreements, mutual appreciation and sustainability are the focus of every cooperation.
Fresh ingredients - carefully packed:
Fresh ingredients - carefully packed: