Rittler family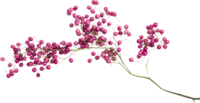 The perfectly seasoned generational friendship.
A friendship that has lasted for several generations is the precious foundation of this story. Bruck an der Leitha is a truly magical place that is named after bridges (Bruck) and ladders (Leitha) to overcome obstacles. And so, it happens that the people come together here to think and act in a sustainable way. This shows in the trustworthiness and reliability of Alois Rittler, whose coffee invites are inescapable.
It was probably over coffee when his friend Rudi Windholz pointed him to the organic path back in 2005. Alois and Rudi grew up with the appreciative coexistence of the Rittler and Windholz families and so they cultivate the friendship as carefully as their spices. In addition to a machine sharing arrangement, they help each other wherever possible. Sabina Rittler also appreciates their "well-seasoned" cooperation, which, she is convinced, is evident in their organic spices.
For those who want to know