Neuner family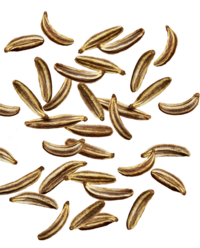 Why Rucola from Weikendorf will soon be on everyone's lips.
Johann Neuner is part of a group of three farmers who pursue their passion for organic farming in the market town of Weikendorf in the Weinviertel. The ongoing exchange of know-how with Gerhard Hof and Josef Heymann was an important driver to specialise in the organic cultivation of herbs and spices. Aniseed, psyllium seeds and caraway are only a few of his specialties.
Eva and Johann's pursuit of producing top organic quality has even made them employers. Especially during the harvest season, they enjoy the quality of their work together with many helpers – some come from the neighbouring Slovakia. The common motivation of the three farming families is, however, the desire to always try something new, such as rocket. And those who know the three industrious organic farmers, appreciate that "Weikendorfer Rucola" will soon be on everyone's lips.
For those who want to know



origanum hirtum (Origanum vulgare ssp. hirtum) org.